Italy
Woke in: Rome, Italy
Our final day in Europe, it's back to the States tomorrow. Today it's Palm Sunday in Rome and at the Vatican. Iggy went to see the Pope at 7:30 in the morning. We caught up around 1pm and he had a fistful of stories. Apparently it's a rock star production. Women were throwing themselves at the Vatican guard for seats while Benedict XVI read the gospel for over an hour in latin. Iggy compared it to the experience he had front row at a U2 concert. Surrounded by screaming, frantic, dripping women. Positively religious, but not really in the God sense.
Late night around 3:30am there was an earthquake that woke everyone on our 5th floor hostel. The quake lasted maybe 30 seconds but the 200+ year old building just kept swaying like playground footbridge. A fellow from Mexico ran to the window and threw it open. He took one look outside, shouted "we have to go now!!!" and immediately bolted out the door half-naked and apparently ran all the way to the Rome train station and slept there. I'd rather take our chances with the aftershocks than risk being shanked by a homeless guy while trying to sleep under newspapers. But that's just me.
Thinking the streets were on fire, we took a follow-up look out the window to see what had freaked the gent out. Nightmarish. Clearly nobody else had been in quakes before… and for the first time on this trip I can say advantage Californians! Tired, we told all these unglued, pacing, half-delirious women in our room we have earthquakes all the time in Cali and they are just routine so "go back to sleep". And so we did. Then the city sirens kicked in.
I guess we'll sleep on the plane.
Au revoir, Europe!
Woke in: Paris, France
Final morning in Paris, then off to Roma once again for Palm Sunday at the Vatican and a flight back to the states. We only had a few hours, but managed to get back to the Seine to bid Paris a final farewell. A few minutes before leaving for our flight we realized our hotel is located right next to the cemetery where a number of famous Parisians rest. Balzac, Chopin, Jim Morrison, Delacroix, and so on. How could we not see Morrison at least?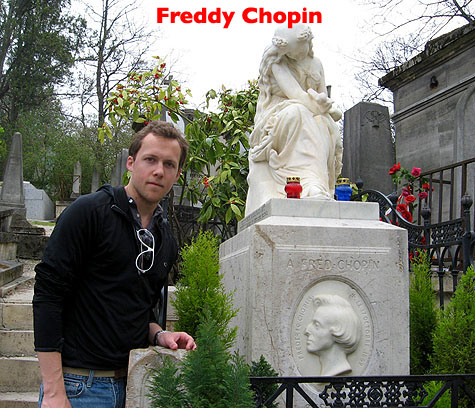 Unfortunately James Douglas Morrison's bust was stolen from his grave and never recovered. So his tomb is a bit plain these days. It's probably sitting in some gah-damn hippy's basement next to a vaporizer and black-light poster. I did not watch my buddies die face down in the mud in 'Nam just to let some pumpkin pie hair-cutted freak get high and hang his hemp necklaces on a bust of Jim Morrison.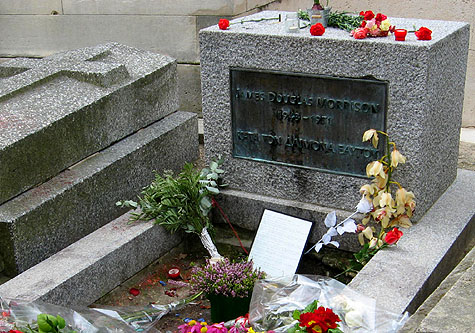 Tonight we're staying at Yellow in Rome, another party hostel. Full bar and the happy hour is from 3pm to 9pm. More importantly at this point… free wifi, thank god. Internet is such a luxury when you're traveling. Looking around the bar, I've never seen so much drunk-Facebooking in my life ("drunkbooking"). So dangerous. I guess nobody here has heard that friends don't let friends drink and Facebook.
Tomorrow, our final day in Europe.
Woke in: Genoa, Italy
Genoa has some kick left in her. It's a touristy industrial port that spent most of the last few thousands years being THE great port of the Mediterranean and was passed (sometimes not willingly) from Celt to Roman to Spaniard to French to Italian to souvenir shop owner. We spent less than 24 hours here but managed to take in some of the local culture, ocean sights, and even see some sailer whores. Yeesh I thought the truckstop variety were bad… these are the Medusas of the nunnery world, except for the total absence of turning to stone.
Genoa was the home to native Christopher Columbus. Yep the dude that offered to find a new trade route to India for 10% of the profits and the title "Great Admiral of the Ocean". Then proceeded to land in Haiti and mistake the natives for Indian (hence why we call Native Americans "Indians" to this day). Rather than admit his fault, he made up some stories about the roads being paved with gold and conquistadors started making the trip over to gather tributes. And then he spent a good deal of his last days in prison for using barbaric forms of torture to govern a town in the New World. Yah thaaattt guy, not the 3rd grade history one.
We left for Nice in the mid-afternoon. I learned during my last Europe backpacking trip that a little booze on the train goes a long way towards taking the edge off. We bought some port and beer and started the party as soon as we had wheels turning beneath us. Shortly thereafter, the conductor walked by and gave us a double-take. He threw open the door and started yelling at us in Italian and pointing wildly around in an accusatory manner. After a bit of confusion it turned out he was irate because Torkelson had his feet on the seat in front of him, but copious amounts of alcohol was no problem at all. This is indicative of many Italian priorities.
Nice seems fab so far. I wish we had more than two days here. Warm with a brisk sea breeze, plenty to do, pleasant people, far better food than we've had thus far, and French culture is much more appealing perhaps due to its familiarity (Italians are much more different from Americans). I recommend it be on anyone's list of must-go places in France. Nothing special about the architecture, but we've had enough of that for one trip.
Tomorrow will be one of our most full days with Eze, Monaco, and Chagall. Ciao for now. Er… Au revoir, I guess it is starting today.
PS: I saw one good sign (literally) that may indicate Nice is a pretty hip place. I find their public policy on children intriguing.
Woke in: Florence, Italy
We went to the Uffizi Gallery as our last laundry item in Florence. It's the "great gallery" of all of Italy since it was populated by the vast purchasing power the Medici dynasty and eventually gifted to the city of Florence itself. It's an odd place for a gallery - just an old office building ("uffizi" means office) hosting some of the great works of Michelangelo, Rafael, Botticelli, Leonardo Di Vinci, Giotto, and so forth. Most notably "The Birth of Venus" is here.
Florence doesn't allow photography much of anywhere, and even the shots you saw yesterday on this blog were sneaky hidden-camera photos (e.g. Michelangelo's David). Unfortunately (perhaps fortunately), rather than continue to show you Florence from my crotch level, you'll just have to Google Florence.
In the afternoon we traveled off to Pisa to connect with a train to Genoa. On the rail in the evening we came out of a tunnel exposed entirely to the Mediterranean Sea and a gorgeous sunset. Most beautiful thing I've seen in Italy, including Venice. There is something so universal and transcendent about the sea that it ties travel together in this sort of false familiarity. So that's it, ten thousand miles away from my home ocean, it feels like we're in a familiar place somehow.
Genoa is tiny, quaint and its salt-water air is a welcome change from urban sprawl on our venture up the coast to France. More soon.
Woke in: Rome, Italy
Final day in Rome, we'll be visiting the Vatican, and I'm getting a bit antsy to rail our way to Florence and Tuscany later today. I've been to Rome before and I've now walked the Pantheon more times than the Golden Gate Bridge (45 minutes from my house), so I think it's time to move onwards and upwards.
So the Vatican… what to say that hundreds of years of inquisitions, imperialism, and helping those in need haven't driven home already. It is astounding how much is on display and how you can touch nearly all of it. Although it difficult to enjoy some of the exhibits having "no touch!" and "no foto!" being yelled at you while guards shine laser-pointers in your eyes from across the corridors. What can I say, I have curious fingers. But from Egyptian sarcophaguses (sarcophagii?) to gold-woven tapestries, it's all right here a breath away thanks to Napoleon. There is even a bronze statue of St. Peter whose feet the Pope mentioned may be worth kissing and since then they've been hideously deformed by sheer unrelenting lip-traffic. Gross.
We arrived in Florence in the evening and briskly found our way to the Plus Florence hostel. We're definitely not in Rome anymore and clearly closer to art and fashion epicenters, but I'll expand on the city tomorrow. The hostel is stunningly nice… good beds, restaurant, bar, gym, Turkish bath, spa, elevators, LCD TVs in each room of the 4 stories, free wifi, and basically better amenities than a four-star hotel. Except we're in bunks, sharing a room with a sad old divorcée named "Marco", and it's 15 euros a night.
Best dinner so far at a little seemingly Italiano-only spot. Great Chianti Classico with the main course and pre-meal we stumbled upon some sort of rose sparkling wine called Brachetto d'Acqui [1] [2]. It made me feel like a schoolboy sucking back blue Otter Pops on a hot afternoon. It's raspberries, plums, blackberries, and violets with crisp lightness from the gas. Do yourself a favor and go try some before it comes into vogue and we're all drowning in it.
Tomorrow we'll be exploring the narrow streets of Florence.
Woke in: Rome, Italy
Top of the list for today: the Coliseum and Forum. As we made our way down the narrow streets to the Coliseum we quickly discovered that it's a very special day… the day of the Rome Marathon! This year it's a marathon to raise awareness for organ donation and coincidentally enough the primary sponsor is McDonalds. I'm not sure whether to be chagrined or make an obvious joke about McDonalds' food quality. I'll leave either to your imagination.
The Coliseum is just fantastic of course. Yes, some Christians may have died there. And somewhere to the tune of 500,000 slaves and prisoners were put to the sword (or spike, or wild boar, or cross). And yes, definitely over a million now rare and exotic animals were slaughtered purely for Friday night fun. But com'on… at least… well it's got history. And that's more than you can say for boring ol' Gitmo or Abu'ghra-whatsit.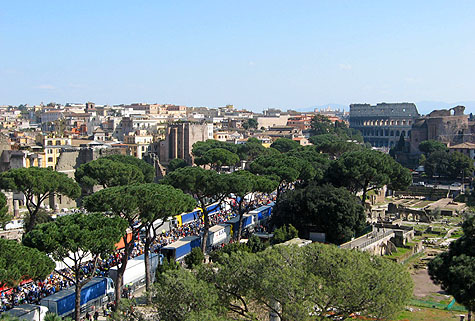 We walked by the Temple of Saturn, focal point of Saturn-worship and the Saturnalia festival in which during December gifts were exchanged, large banquets held, people of different classes and races were good to each other, and a jolly white-bearded fat man would go house to house and bring cheer and seasonal spirit. I believe the Germans borrowed some of this for one of their own holidays.
We visited numerous churches in this Catholic mecca, but one little place stuck out in our minds. A statue of Moses in the San Pietro Vincoli with horns. And yes, the same Moses that took cliff notes from God and then smashed them against the ground (and lived). But that's not why he has horns. Apparently when Moses came down from Mt. Sinai with the word from God, he was "glowing" but the Hebrew was mistranslated as "horny" or "horned". So for centuries it was believed that Moses and his descendants had horns. If you don't believe me, Wikipedia it. And if you don't believe in Wikipedia, you probably didn't do too well in college.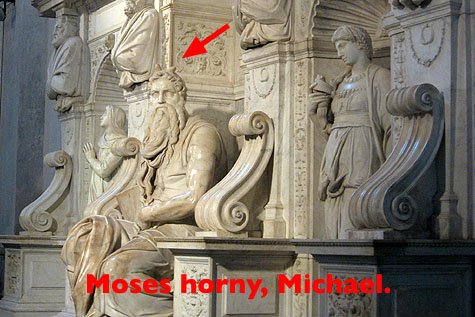 Well, tomorrow it's the Vatican, Sistine Chapel, and perhaps the Pope will be back from Africa telling the world condoms assist the spread of HIV/AIDS. Though I suspect he's still in Africa since he probably can't get around well with such huge balls.
Woke in: Rome, Italy
A late rise in Roma: our faces sun weathered, our hearts stout from camaraderie, and our ears full of terracotta being sawn for a new floor outside our door. The problem with hostels is you feel for the owners as it's an obvious labor of love (or self-flagellation), but at the same time they have no real motivation to consistently provide pleasant lodgings. Though I'd say with the red-dust and noise included, this is still one of my better hostel experiences.
In the late afternoon Torkelson arrived to join Iggy and I as we travel across Europe. I've never met Torkelson before, but he appears to have access to resources. Adequate means, if you will. If you've been up on my previous excursions, you can understand when I say this puts me at ease. The more debit cards the better, I say. Apparently he hedges exotic options for a living. If that sounds like a high-class pimp, perhaps you need to read a newspaper. (And oddly you'll find you're correct but in a different way.)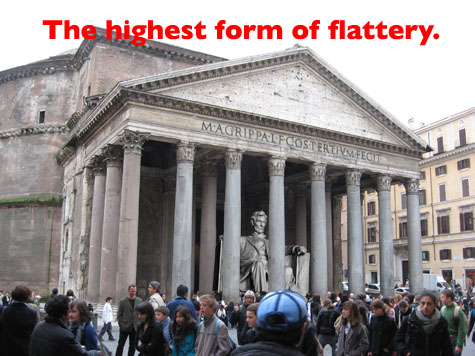 So as I mentioned yesterday, I had a fantastic calzone at a place where Iggy managed to piss off the waiter by implying French and Italians are the "same thing". However the food was so good Torkelson and I managed to convince Iggy to go back so Torkelson could have a taste. To use the parlance of our time… what an epic fail of an idea.
About three minutes after sitting down, I was spotted by the afore mentioned waiter staring out from the back room. He started casing us while another waiter took our order. Iggy selected a lasagna and it arrived in under 45 seconds. No exaggeration. Shockingly fast. Fell-on-the-floor-earlier-and-reheated fast. 10 minutes later Torkelson and I get our meals from none other than our old waiter friend. Just as he is about to leave the table, he turns, looks Iggy straight in the eyes and conspicuously asks "taste good?" Iggy: "Mmph yah delicious." Then a smirk and mischievous smile to the other waiters. From there on, whenever waiters would come by they would single Iggy out and ask if he wanted any drinks - coffee, tea, beer, wine, cappuccino, lemoncello, and so forth. I think in this type of situation clear liquids are the best choice.
Tomorrow: the Coliseum, etc.
Woke in: Rome, Italy
Our first day backpacking in Europe. The electricity, the titillation! We walked around Roma aimlessly exploring around two-dozen sites from the Pantheon to the Repubblica. I'm here with Iggy, a friend from many years past. Tomorrow we'll hit the Colosseo and in two days, the Vaticani.
There were a few notable statues we happened upon today, as you can imagine. One of the stranger was of Enrico Giovanni Cairoli. Apparently after all the bad press of WWII, Italy decided to start playing up their more democracy-friendly historical figures. Enrico gained some renown for being with Custer in the last few minutes while Sitting Bull slaughtered the lot of them. In a nutshell, as Custer went down he fell into Enrico's young, bronzed Italian arms. You can't make this stuff up.
We enjoyed our first authentic Italian meal in the evening. We attempted to venture outside of the touristy areas and I had a fantastic calzone, Iggy a vegi pizza, and we split a bottle of house red. One little hitch early on in our meal, though: While the jovial waiter opened the vino, Iggy said "c'est la vie" and then to me "that's Italian, right?" The waiter said "no" and Iggy replied "but same thing, right?" The less-jovial waiter just shook his head slightly and walked right off. Didn't see him again for nearly two hours. No refills, no check-in, no desert, no bill. The restaurant was closing before we flagged him over and he joked that we couldn't possibly pay enough for the meal. Such is life.
One final note, we kept seeing these strange calendars for sale in the street markets. Twelve months of Rome's fully-robed hot young priests to keep you warm year-round. You'd think this a niche product, but not so.