Archive for 2009
Woke in: Lyon, France
For most of today and tomorrow, Iggy and Torkelson are off to Taizé, an ecumenical youth monastery of sorts. My preference is to experience more of Lyon, so I'll be traversing this splendid city on my own. The goal for today is to only speak French, with the exceptions of this blog, email, and cursing. (Try stubbing your toe and see if "mon dieu" makes you feel better.) I only know a few words, so we'll see how far this gets…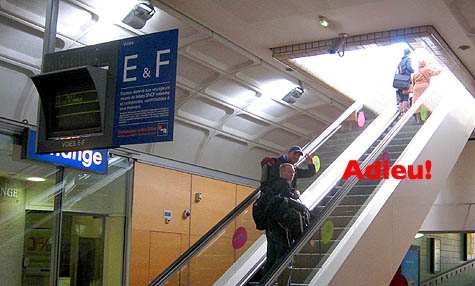 I spent much of the day in historic Lyon, Vieux-Lyon as it is called. There is a lot going on despite the "oldness". While the architecture, churches, Roman ruins and so forth are terribly historic, the contents are generally modern. Modern foods, clothing, galleries, and so on. Let's tuck in with a few pics, shall we?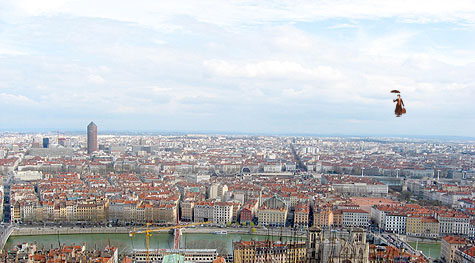 In the late 1870s to celebrate Lyon finally becoming something of a Catholic city (after roughly 20,000 years of hedonism) a cathedral was built on the highest hilltop with three separate worship rooms for different styles of Mass: huge & extravagant, small & homely, and dark & gothic. Sort of like choose-your-own-adventure, but with God. I also happened upon a massive astro-clock:
Unfortunately for me, Lyon is Catholic enough that most anything non-food or museum related is closed (it's Sunday today). Living large isn't going to happen until after dark or tomorrow, at best. In the meantime, here's a photo of my head with silly sunshades blocking a perfectly beautiful view of the city: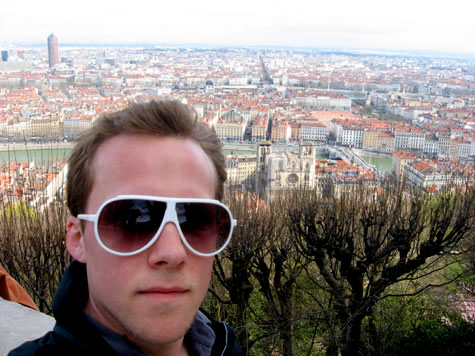 Finally to sum up some of Lyon's historicity:
Another magnifique dinner in the evening, though not quite as extravagant as yesterday's. Poisson this time with a lemony sauce called hollandaise and white wine. Perhaps it's a recipe borrowed from Holland?
Tomorrow we're regrouping later in the day and setting off for Paris.
Woke in: Nice, France
We rose slowly in the morning, checked out of our hostel, and headed back to a small corner-cafe we found called Piccante Cafe. We enjoyed a final round of soft, fresh, eggy croissants, breads, and pain au chocolats. You can't get breakfast breads like this in America (that I know of… comment if you know any!).
A final adieu to Nice and we're off to Lyon, the cinema and gastronomy capital of France. Tonight I suspect we'll be dining well, even if we have no idea what we're ordering. We're now in a place with unfamiliar menu items (coq au vin? cardoon au gratin?) and no English in sight (though some inhabitants speak a little bit).
Per usual we drank some Belgian blonde beer on the 4-hour train ride from Nice to Lyon, but felt a bit odd sitting across from a couple of old marmy-looking gals giggling at our vices. But to our surprise, an hour into the trip one of the 90-year-old ladies pulled a bottle of 1664 from her purse and cracked it open! The stereotypes about French and their drinking habits are officially true. Sante!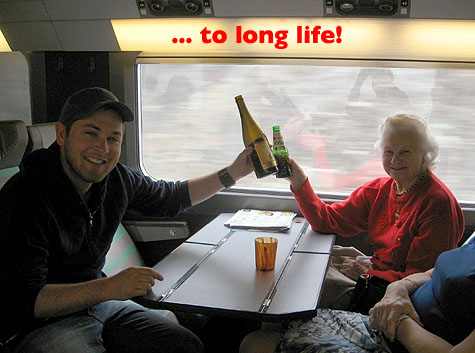 In Lyon, Iggy and I had to share a bed due to some mixup about what "three beds" means. Apparently I was mistaken and three means two, one full and one twin. That's how it goes down on this side of the Atlantic.
In the evening, gastronomy! We ate at the popular Le Layon in the infamous Rue Mercière area and pulled three "very frenchy" dishes as our waitress put it. For Torkelson: frog legs. Iggy: raw salmon with a mystery side dish. And for myself: tartare de boeuf (raw beef with herbs and roots mixed together). I've never had raw red meat due to the risks, but I may not go back. We all agreed this was the best dish of the lot. Although it's difficult to reconcile the thought of someone just cutting a chunk of meat off a cow and then my immediate ingestion. (Apologies to vegetarian readers.) An extraordinary meal with a great Pinot Noir from Bourgogne.
Woke in: Nice, France
Traveled: Nice & Eze, France and Monaco, Monaco.
Today was extraordinary. We traversed Nice hilltops, Eze mountaintops, and Monaco's wealth all in a single day and we somehow felt leisurely about it all. If it weren't for the stark absence of sailing on a 200-ft yacht, I would have thought I was Jay-Z.
Nice is just fabulous in every way. The more time we spend here the richer the experience becomes. From a tourist point of view our waiters are delightful rather than tourist-hating-soup-Nazis, our food doesn't taste like the only seasoning available is salt, and the sights are more than just churches and Irish-pirate dive bars. Visit Nice. Raise a family in Nice. You won't regret it.
Iggy is a lifelong enthusiast of Chagall so in the morning we visited the Chagall museum in Nice and saw much of his later works, 1950s to 1970s. Generally these pieces are a juxtaposition of Christ and Moses, or old testament and new. Something Jewish painters don't often attempt unless they are just that tired of Kosher foods. Shellfish is tasty, I will admit.
We climbed to the top of a hilltop near the coast in Nice prior to setting off for the ancient town of Eze by bus. What a view. Yachts on one side and miles of beaches on the other, all framed within bright Italian architecture and French extravagant minimalism (that makes sense if you go to Nice). The French Riviera here is turquoise like Hawaii or Baja California. We didn't test it for warmth.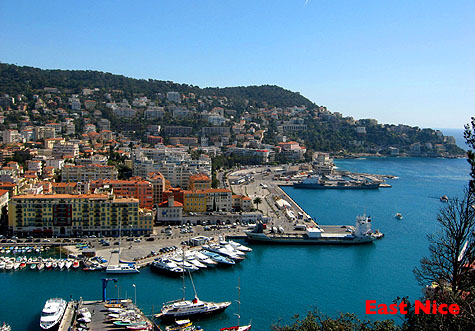 In Eze we felt our way through a series of tiny cobblestone streets in a former hilltop castle of sorts. It feels as if you are in a tiny country rather than a quaint town. Apparently royalty, Indy car drivers, and Bono from some Irish band spend entire seasons in this tucked away gem. We spent three hours, but look forward to returning.
Finally, Monaco. The second smallest country in the world, totally independent but loosely linked with France for trade and defense. There is no income tax so it's a haven for about 32,000 rich and famously rich. We walked the Grand Prix course and saw the black tire marks against the red and white curbs, and stopped by the Monte Carlo to see what all the hub-bub is about.
To keep the tourists out of the casino they charge an entrance fee that we gladly paid. It was immediately clear we weren't intended to do that. With all of us in pseudo-athletic clothing we stuck out like nuns in this smoky haze of tuxedos, exceptional decor, and 20,000-euro-minimum-bet roulette tables. We found a table hosting 25 euro blackjack and Torkelson plopped down 50e to play a few hands. Lady luck shined her blindfolded-face down and he walked out quadrupled up in about 15 minutes. Hoo-rah!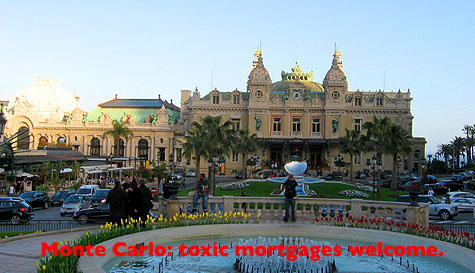 Dinner back in Nice was our best thus far. And the best seafood I've ever had in my life. A slow meal of mussels for appetizer, béarnaise sauce on a number of different catches, crisp white Cassis wine, and pleasant company. This is Europe as I have come to understand it in the movies. Time to take up smoking as well?
Today was a series of precedents. We will judge all pastries by Nice's soft egg-mixed croissants and pain du chocolats. Judge all coastal cities and sea-swept vistas by Nice. All castles and narrow cobblestone streets by Eze. All casinos and unimaginable extravagance by Monaco. And all seafood against Nice's fresh catch du jour and rich sauces. The rest of the world is up against tough odds, but thankfully I have a very short memory. Otherwise I may spend the rest of my life under a haze of depression. Or learn French and move. Grace Kelly knew what she was doing when she married the prince of Monaco.
Tomorrow, Lyon. The second largest city and food capital of France were we hope to learn the true meaning of "bon appétit".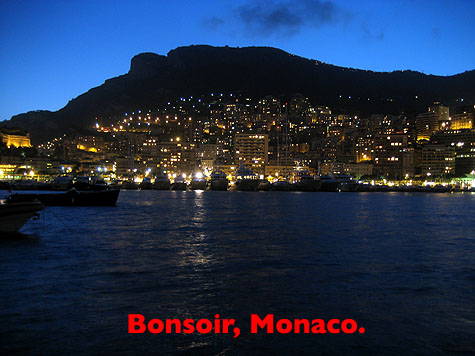 Woke in: Genoa, Italy
Genoa has some kick left in her. It's a touristy industrial port that spent most of the last few thousands years being THE great port of the Mediterranean and was passed (sometimes not willingly) from Celt to Roman to Spaniard to French to Italian to souvenir shop owner. We spent less than 24 hours here but managed to take in some of the local culture, ocean sights, and even see some sailer whores. Yeesh I thought the truckstop variety were bad… these are the Medusas of the nunnery world, except for the total absence of turning to stone.
Genoa was the home to native Christopher Columbus. Yep the dude that offered to find a new trade route to India for 10% of the profits and the title "Great Admiral of the Ocean". Then proceeded to land in Haiti and mistake the natives for Indian (hence why we call Native Americans "Indians" to this day). Rather than admit his fault, he made up some stories about the roads being paved with gold and conquistadors started making the trip over to gather tributes. And then he spent a good deal of his last days in prison for using barbaric forms of torture to govern a town in the New World. Yah thaaattt guy, not the 3rd grade history one.
We left for Nice in the mid-afternoon. I learned during my last Europe backpacking trip that a little booze on the train goes a long way towards taking the edge off. We bought some port and beer and started the party as soon as we had wheels turning beneath us. Shortly thereafter, the conductor walked by and gave us a double-take. He threw open the door and started yelling at us in Italian and pointing wildly around in an accusatory manner. After a bit of confusion it turned out he was irate because Torkelson had his feet on the seat in front of him, but copious amounts of alcohol was no problem at all. This is indicative of many Italian priorities.
Nice seems fab so far. I wish we had more than two days here. Warm with a brisk sea breeze, plenty to do, pleasant people, far better food than we've had thus far, and French culture is much more appealing perhaps due to its familiarity (Italians are much more different from Americans). I recommend it be on anyone's list of must-go places in France. Nothing special about the architecture, but we've had enough of that for one trip.
Tomorrow will be one of our most full days with Eze, Monaco, and Chagall. Ciao for now. Er… Au revoir, I guess it is starting today.
PS: I saw one good sign (literally) that may indicate Nice is a pretty hip place. I find their public policy on children intriguing.
Woke in: Florence, Italy
We went to the Uffizi Gallery as our last laundry item in Florence. It's the "great gallery" of all of Italy since it was populated by the vast purchasing power the Medici dynasty and eventually gifted to the city of Florence itself. It's an odd place for a gallery - just an old office building ("uffizi" means office) hosting some of the great works of Michelangelo, Rafael, Botticelli, Leonardo Di Vinci, Giotto, and so forth. Most notably "The Birth of Venus" is here.
Florence doesn't allow photography much of anywhere, and even the shots you saw yesterday on this blog were sneaky hidden-camera photos (e.g. Michelangelo's David). Unfortunately (perhaps fortunately), rather than continue to show you Florence from my crotch level, you'll just have to Google Florence.
In the afternoon we traveled off to Pisa to connect with a train to Genoa. On the rail in the evening we came out of a tunnel exposed entirely to the Mediterranean Sea and a gorgeous sunset. Most beautiful thing I've seen in Italy, including Venice. There is something so universal and transcendent about the sea that it ties travel together in this sort of false familiarity. So that's it, ten thousand miles away from my home ocean, it feels like we're in a familiar place somehow.
Genoa is tiny, quaint and its salt-water air is a welcome change from urban sprawl on our venture up the coast to France. More soon.
Woke in: Florence, Italy
Alright, Florence. Or Firenze, as they call it. Just an absolute flurry today. Celebrity tombs such as Donatello, Dante, and Michelangelo, churches, museums, galleries, markets, and a healthy dash of tom-foolery and skull-duggery. We didn't get up until after noon since most of the dark hours were spent out and about, so we had to rush. Contributing to the delays, Marco, our sad middle-aged, beer-gutted, hostel-live-in Italian roommate, realized he lost his camcorder in the early morning and threw a fit of "sh-t sh-t sh-t sh-ts" and slammed on the lights. I'm not sure what he wanted with his camcorder at 4am with a room full of strapping young gentlemen, but I am confident the internet can always use more blurry creepy night-vision nudity.
While some of the streets in Florence are almost indistinguishable from Rome, there is a very different vibe. More artsy and less urban. Though equally touristy. I can think of two ways to summarize it to anyone who hasn't visited: First, Roma's sights are made of noble marble and Firenze of ornate brick. Second, Roma was the great Italian consolidator of cultures and Firenze was the Italian great creator of culture. I'm generalizing, but there it is for those who are curious.
It started storming in the middle of the day and the temperature plummeted. These shoddy 2-3€ umbrellas you could buy from any market stand jumped up to 5-10€ in a matter of seconds. The gusts of wind were too much for these cheap contraptions and within minutes streets were lined with broken umbrellas. It was like an umbrella holocaust. Blood everywhere. Oh the humanity.
Towards the end of the day we visited The Accademia Gallery and took in Michelangelo's David in all his glory. This 17′ tall celebration of thoughtful mankind was damaged in 1991 by an assailant with a concealed hammer. Despite this obviously being a desperate act of penis-envy, the man only managed to crack David's toe due to the statue's remarkable height advantage. A tour guide was discussing David's member at length (no pun intended, honestly) and noted perhaps God sent the man to do what Michelangelo would not - circumcise the Israelite King.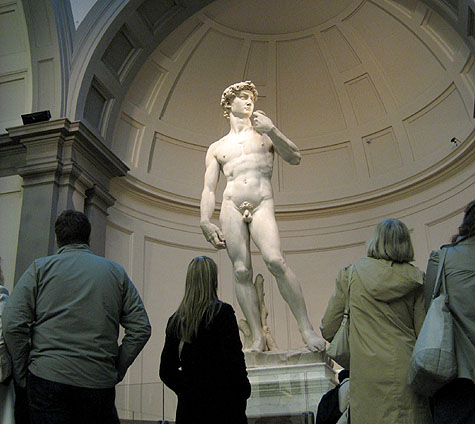 Tomorrow, Genoa (Genova en Italiano). Until then, here's one last taste of Florence:
Woke in: Rome, Italy
Final day in Rome, we'll be visiting the Vatican, and I'm getting a bit antsy to rail our way to Florence and Tuscany later today. I've been to Rome before and I've now walked the Pantheon more times than the Golden Gate Bridge (45 minutes from my house), so I think it's time to move onwards and upwards.
So the Vatican… what to say that hundreds of years of inquisitions, imperialism, and helping those in need haven't driven home already. It is astounding how much is on display and how you can touch nearly all of it. Although it difficult to enjoy some of the exhibits having "no touch!" and "no foto!" being yelled at you while guards shine laser-pointers in your eyes from across the corridors. What can I say, I have curious fingers. But from Egyptian sarcophaguses (sarcophagii?) to gold-woven tapestries, it's all right here a breath away thanks to Napoleon. There is even a bronze statue of St. Peter whose feet the Pope mentioned may be worth kissing and since then they've been hideously deformed by sheer unrelenting lip-traffic. Gross.
We arrived in Florence in the evening and briskly found our way to the Plus Florence hostel. We're definitely not in Rome anymore and clearly closer to art and fashion epicenters, but I'll expand on the city tomorrow. The hostel is stunningly nice… good beds, restaurant, bar, gym, Turkish bath, spa, elevators, LCD TVs in each room of the 4 stories, free wifi, and basically better amenities than a four-star hotel. Except we're in bunks, sharing a room with a sad old divorcée named "Marco", and it's 15 euros a night.
Best dinner so far at a little seemingly Italiano-only spot. Great Chianti Classico with the main course and pre-meal we stumbled upon some sort of rose sparkling wine called Brachetto d'Acqui [1] [2]. It made me feel like a schoolboy sucking back blue Otter Pops on a hot afternoon. It's raspberries, plums, blackberries, and violets with crisp lightness from the gas. Do yourself a favor and go try some before it comes into vogue and we're all drowning in it.
Tomorrow we'll be exploring the narrow streets of Florence.