Archive for 2009
Woke in: Rome, Italy
Top of the list for today: the Coliseum and Forum. As we made our way down the narrow streets to the Coliseum we quickly discovered that it's a very special day… the day of the Rome Marathon! This year it's a marathon to raise awareness for organ donation and coincidentally enough the primary sponsor is McDonalds. I'm not sure whether to be chagrined or make an obvious joke about McDonalds' food quality. I'll leave either to your imagination.
The Coliseum is just fantastic of course. Yes, some Christians may have died there. And somewhere to the tune of 500,000 slaves and prisoners were put to the sword (or spike, or wild boar, or cross). And yes, definitely over a million now rare and exotic animals were slaughtered purely for Friday night fun. But com'on… at least… well it's got history. And that's more than you can say for boring ol' Gitmo or Abu'ghra-whatsit.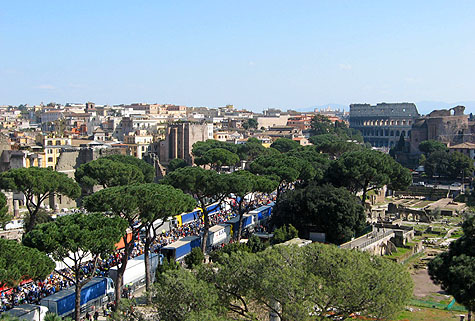 We walked by the Temple of Saturn, focal point of Saturn-worship and the Saturnalia festival in which during December gifts were exchanged, large banquets held, people of different classes and races were good to each other, and a jolly white-bearded fat man would go house to house and bring cheer and seasonal spirit. I believe the Germans borrowed some of this for one of their own holidays.
We visited numerous churches in this Catholic mecca, but one little place stuck out in our minds. A statue of Moses in the San Pietro Vincoli with horns. And yes, the same Moses that took cliff notes from God and then smashed them against the ground (and lived). But that's not why he has horns. Apparently when Moses came down from Mt. Sinai with the word from God, he was "glowing" but the Hebrew was mistranslated as "horny" or "horned". So for centuries it was believed that Moses and his descendants had horns. If you don't believe me, Wikipedia it. And if you don't believe in Wikipedia, you probably didn't do too well in college.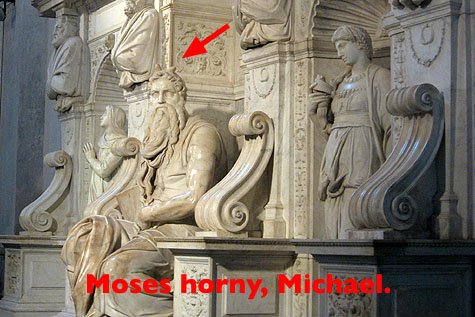 Well, tomorrow it's the Vatican, Sistine Chapel, and perhaps the Pope will be back from Africa telling the world condoms assist the spread of HIV/AIDS. Though I suspect he's still in Africa since he probably can't get around well with such huge balls.
Woke in: Rome, Italy
A late rise in Roma: our faces sun weathered, our hearts stout from camaraderie, and our ears full of terracotta being sawn for a new floor outside our door. The problem with hostels is you feel for the owners as it's an obvious labor of love (or self-flagellation), but at the same time they have no real motivation to consistently provide pleasant lodgings. Though I'd say with the red-dust and noise included, this is still one of my better hostel experiences.
In the late afternoon Torkelson arrived to join Iggy and I as we travel across Europe. I've never met Torkelson before, but he appears to have access to resources. Adequate means, if you will. If you've been up on my previous excursions, you can understand when I say this puts me at ease. The more debit cards the better, I say. Apparently he hedges exotic options for a living. If that sounds like a high-class pimp, perhaps you need to read a newspaper. (And oddly you'll find you're correct but in a different way.)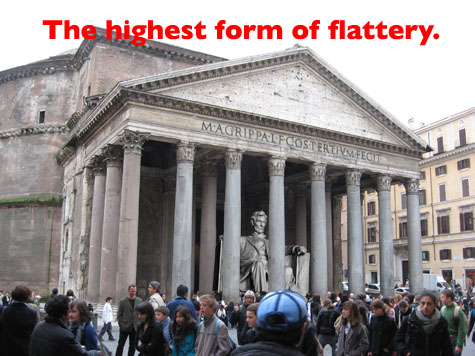 So as I mentioned yesterday, I had a fantastic calzone at a place where Iggy managed to piss off the waiter by implying French and Italians are the "same thing". However the food was so good Torkelson and I managed to convince Iggy to go back so Torkelson could have a taste. To use the parlance of our time… what an epic fail of an idea.
About three minutes after sitting down, I was spotted by the afore mentioned waiter staring out from the back room. He started casing us while another waiter took our order. Iggy selected a lasagna and it arrived in under 45 seconds. No exaggeration. Shockingly fast. Fell-on-the-floor-earlier-and-reheated fast. 10 minutes later Torkelson and I get our meals from none other than our old waiter friend. Just as he is about to leave the table, he turns, looks Iggy straight in the eyes and conspicuously asks "taste good?" Iggy: "Mmph yah delicious." Then a smirk and mischievous smile to the other waiters. From there on, whenever waiters would come by they would single Iggy out and ask if he wanted any drinks - coffee, tea, beer, wine, cappuccino, lemoncello, and so forth. I think in this type of situation clear liquids are the best choice.
Tomorrow: the Coliseum, etc.
Woke in: Rome, Italy
Our first day backpacking in Europe. The electricity, the titillation! We walked around Roma aimlessly exploring around two-dozen sites from the Pantheon to the Repubblica. I'm here with Iggy, a friend from many years past. Tomorrow we'll hit the Colosseo and in two days, the Vaticani.
There were a few notable statues we happened upon today, as you can imagine. One of the stranger was of Enrico Giovanni Cairoli. Apparently after all the bad press of WWII, Italy decided to start playing up their more democracy-friendly historical figures. Enrico gained some renown for being with Custer in the last few minutes while Sitting Bull slaughtered the lot of them. In a nutshell, as Custer went down he fell into Enrico's young, bronzed Italian arms. You can't make this stuff up.
We enjoyed our first authentic Italian meal in the evening. We attempted to venture outside of the touristy areas and I had a fantastic calzone, Iggy a vegi pizza, and we split a bottle of house red. One little hitch early on in our meal, though: While the jovial waiter opened the vino, Iggy said "c'est la vie" and then to me "that's Italian, right?" The waiter said "no" and Iggy replied "but same thing, right?" The less-jovial waiter just shook his head slightly and walked right off. Didn't see him again for nearly two hours. No refills, no check-in, no desert, no bill. The restaurant was closing before we flagged him over and he joked that we couldn't possibly pay enough for the meal. Such is life.
One final note, we kept seeing these strange calendars for sale in the street markets. Twelve months of Rome's fully-robed hot young priests to keep you warm year-round. You'd think this a niche product, but not so.