Woke in: Paris, France
We caught a tour boat that putt-putts up and down the Seine, along which many of the great sights reside. It felt a bit like being at Disneyland (or the World or Euro versions, if you prefer). A tour-guide and epic soundtrack took us through some of the key landmarks. On the left the Louvre, on the right the d'Orsay, the left Notre Dame, and the right a large group of tan old naked Frenchmen sunbathing. Trés magnifique.
Notre Dame was fab. Unearthly. The line going to the top of the building was 70 minutes, so we skipped that and walked around the ground floor. Nothing says "Christ is love" like gargoyles and crucified skeletons!
The Louvre was the highlight of the day (for me). We spent 2.5 hours separately walking around the 4 floors of the museum, but its halls are just too vast. It closed before we could see half of it, but did manage to catch the Mona Lisa, Venus de Milo, and other greats. The hallways range from marble gardens of French statues to a true-scale medieval castle in the basement to explore. It's ironic none of this would be available for us without the exceptional artistic opulence of the French and then a violent revolution against that same opulence. Long live the guillotine!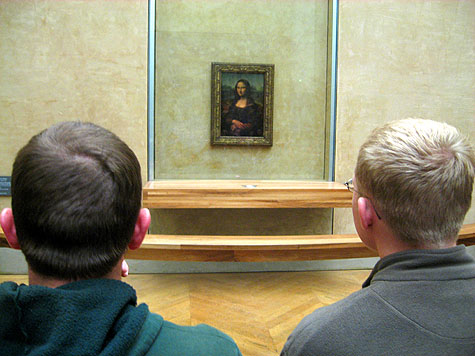 Around 10pm we found a cramped, expensive little French cafe that looked as "local and authentic" as we could collectively imagine. It was as quaint as it was unsettling. It seemed everything on the menu was slaughtered in its unrealized adolescence. I had a baby lamb, Tork had a baby pig, and Iggy a baby spinach salad. But… yum! Clearly flesh is in its prime at a young age — I guess the Greeks were right about something afterall!
To continue my run with yet another waiter story (these are great, g-rated fun for all)… At the end of the meal, our waitress asked where we hailed from. Two from California, to which she replied "the Californians learn French because they live near water" and Torkelson mentioned he was from Minnesota. "Minne-what? Minstery? Oh! You're a redneck. Very nice. Red wine for the red neck." Ouch. It's becoming clear that any state that isn't recognized is assumed by French to be "red" (in both the political and neck meanings).