Woke in: Nice, France
We rose slowly in the morning, checked out of our hostel, and headed back to a small corner-cafe we found called Piccante Cafe. We enjoyed a final round of soft, fresh, eggy croissants, breads, and pain au chocolats. You can't get breakfast breads like this in America (that I know of… comment if you know any!).
A final adieu to Nice and we're off to Lyon, the cinema and gastronomy capital of France. Tonight I suspect we'll be dining well, even if we have no idea what we're ordering. We're now in a place with unfamiliar menu items (coq au vin? cardoon au gratin?) and no English in sight (though some inhabitants speak a little bit).
Per usual we drank some Belgian blonde beer on the 4-hour train ride from Nice to Lyon, but felt a bit odd sitting across from a couple of old marmy-looking gals giggling at our vices. But to our surprise, an hour into the trip one of the 90-year-old ladies pulled a bottle of 1664 from her purse and cracked it open! The stereotypes about French and their drinking habits are officially true. Sante!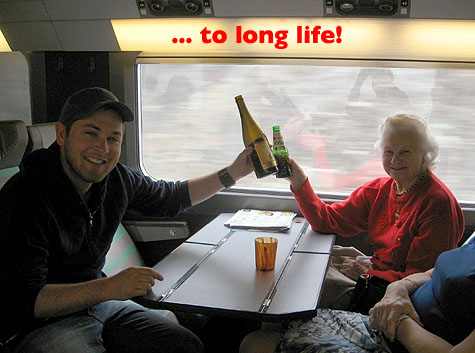 In Lyon, Iggy and I had to share a bed due to some mixup about what "three beds" means. Apparently I was mistaken and three means two, one full and one twin. That's how it goes down on this side of the Atlantic.
In the evening, gastronomy! We ate at the popular Le Layon in the infamous Rue Mercière area and pulled three "very frenchy" dishes as our waitress put it. For Torkelson: frog legs. Iggy: raw salmon with a mystery side dish. And for myself: tartare de boeuf (raw beef with herbs and roots mixed together). I've never had raw red meat due to the risks, but I may not go back. We all agreed this was the best dish of the lot. Although it's difficult to reconcile the thought of someone just cutting a chunk of meat off a cow and then my immediate ingestion. (Apologies to vegetarian readers.) An extraordinary meal with a great Pinot Noir from Bourgogne.