Woke in: Nice, France
Traveled: Nice & Eze, France and Monaco, Monaco.
Today was extraordinary. We traversed Nice hilltops, Eze mountaintops, and Monaco's wealth all in a single day and we somehow felt leisurely about it all. If it weren't for the stark absence of sailing on a 200-ft yacht, I would have thought I was Jay-Z.
Nice is just fabulous in every way. The more time we spend here the richer the experience becomes. From a tourist point of view our waiters are delightful rather than tourist-hating-soup-Nazis, our food doesn't taste like the only seasoning available is salt, and the sights are more than just churches and Irish-pirate dive bars. Visit Nice. Raise a family in Nice. You won't regret it.
Iggy is a lifelong enthusiast of Chagall so in the morning we visited the Chagall museum in Nice and saw much of his later works, 1950s to 1970s. Generally these pieces are a juxtaposition of Christ and Moses, or old testament and new. Something Jewish painters don't often attempt unless they are just that tired of Kosher foods. Shellfish is tasty, I will admit.
We climbed to the top of a hilltop near the coast in Nice prior to setting off for the ancient town of Eze by bus. What a view. Yachts on one side and miles of beaches on the other, all framed within bright Italian architecture and French extravagant minimalism (that makes sense if you go to Nice). The French Riviera here is turquoise like Hawaii or Baja California. We didn't test it for warmth.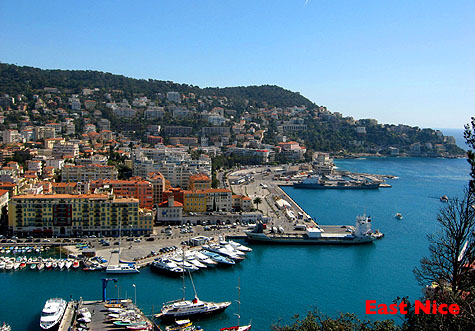 In Eze we felt our way through a series of tiny cobblestone streets in a former hilltop castle of sorts. It feels as if you are in a tiny country rather than a quaint town. Apparently royalty, Indy car drivers, and Bono from some Irish band spend entire seasons in this tucked away gem. We spent three hours, but look forward to returning.
Finally, Monaco. The second smallest country in the world, totally independent but loosely linked with France for trade and defense. There is no income tax so it's a haven for about 32,000 rich and famously rich. We walked the Grand Prix course and saw the black tire marks against the red and white curbs, and stopped by the Monte Carlo to see what all the hub-bub is about.
To keep the tourists out of the casino they charge an entrance fee that we gladly paid. It was immediately clear we weren't intended to do that. With all of us in pseudo-athletic clothing we stuck out like nuns in this smoky haze of tuxedos, exceptional decor, and 20,000-euro-minimum-bet roulette tables. We found a table hosting 25 euro blackjack and Torkelson plopped down 50e to play a few hands. Lady luck shined her blindfolded-face down and he walked out quadrupled up in about 15 minutes. Hoo-rah!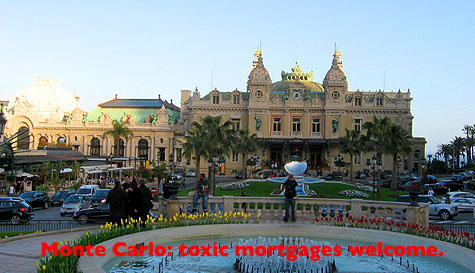 Dinner back in Nice was our best thus far. And the best seafood I've ever had in my life. A slow meal of mussels for appetizer, béarnaise sauce on a number of different catches, crisp white Cassis wine, and pleasant company. This is Europe as I have come to understand it in the movies. Time to take up smoking as well?
Today was a series of precedents. We will judge all pastries by Nice's soft egg-mixed croissants and pain du chocolats. Judge all coastal cities and sea-swept vistas by Nice. All castles and narrow cobblestone streets by Eze. All casinos and unimaginable extravagance by Monaco. And all seafood against Nice's fresh catch du jour and rich sauces. The rest of the world is up against tough odds, but thankfully I have a very short memory. Otherwise I may spend the rest of my life under a haze of depression. Or learn French and move. Grace Kelly knew what she was doing when she married the prince of Monaco.
Tomorrow, Lyon. The second largest city and food capital of France were we hope to learn the true meaning of "bon appétit".