Woke in: Rome, Italy
Our final day in Europe, it's back to the States tomorrow. Today it's Palm Sunday in Rome and at the Vatican. Iggy went to see the Pope at 7:30 in the morning. We caught up around 1pm and he had a fistful of stories. Apparently it's a rock star production. Women were throwing themselves at the Vatican guard for seats while Benedict XVI read the gospel for over an hour in latin. Iggy compared it to the experience he had front row at a U2 concert. Surrounded by screaming, frantic, dripping women. Positively religious, but not really in the God sense.
Late night around 3:30am there was an earthquake that woke everyone on our 5th floor hostel. The quake lasted maybe 30 seconds but the 200+ year old building just kept swaying like playground footbridge. A fellow from Mexico ran to the window and threw it open. He took one look outside, shouted "we have to go now!!!" and immediately bolted out the door half-naked and apparently ran all the way to the Rome train station and slept there. I'd rather take our chances with the aftershocks than risk being shanked by a homeless guy while trying to sleep under newspapers. But that's just me.
Thinking the streets were on fire, we took a follow-up look out the window to see what had freaked the gent out. Nightmarish. Clearly nobody else had been in quakes before… and for the first time on this trip I can say advantage Californians! Tired, we told all these unglued, pacing, half-delirious women in our room we have earthquakes all the time in Cali and they are just routine so "go back to sleep". And so we did. Then the city sirens kicked in.
I guess we'll sleep on the plane.
Au revoir, Europe!
Woke in: Paris, France
Final morning in Paris, then off to Roma once again for Palm Sunday at the Vatican and a flight back to the states. We only had a few hours, but managed to get back to the Seine to bid Paris a final farewell. A few minutes before leaving for our flight we realized our hotel is located right next to the cemetery where a number of famous Parisians rest. Balzac, Chopin, Jim Morrison, Delacroix, and so on. How could we not see Morrison at least?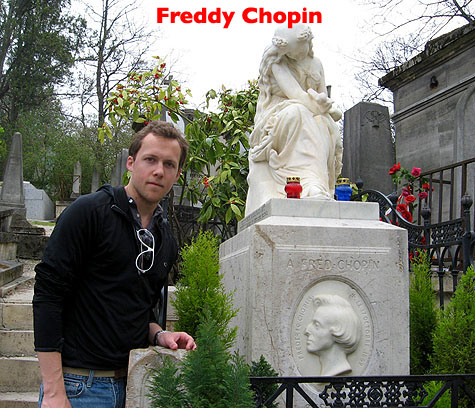 Unfortunately James Douglas Morrison's bust was stolen from his grave and never recovered. So his tomb is a bit plain these days. It's probably sitting in some gah-damn hippy's basement next to a vaporizer and black-light poster. I did not watch my buddies die face down in the mud in 'Nam just to let some pumpkin pie hair-cutted freak get high and hang his hemp necklaces on a bust of Jim Morrison.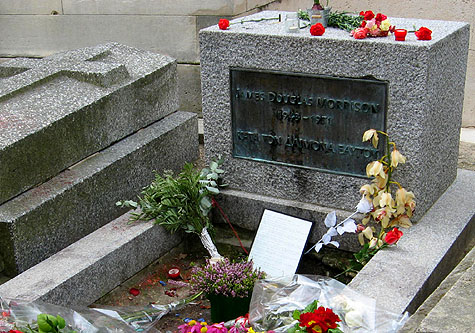 Tonight we're staying at Yellow in Rome, another party hostel. Full bar and the happy hour is from 3pm to 9pm. More importantly at this point… free wifi, thank god. Internet is such a luxury when you're traveling. Looking around the bar, I've never seen so much drunk-Facebooking in my life ("drunkbooking"). So dangerous. I guess nobody here has heard that friends don't let friends drink and Facebook.
Tomorrow, our final day in Europe.
Woke in: Paris, France
Fantastic lunch in the mid-morning at Les Pappiles in the latin district. Torkelson tried foie gras, and much to his surprise and chagrin it really was just fatty duck s*** in a jar. Iggy and I faired better with delicious fish and chicken meals and superb wine. The expectation in Paris is to drink a bottle for lunch. What a place.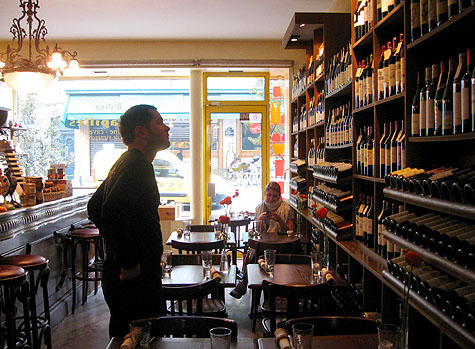 Torkelson departed from us after lunch. He's off to visit Euro Disney and then set off for home in Minnesota. Iggy and I couldn't understand why of all the things to do in Paris he'd want to go to a theme park, especially one identical to Disneyland in California, but Torkelson is not one to date popular opinion.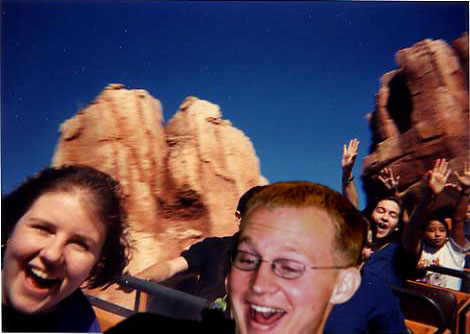 We swung by Moulin Rouge in the evening to find out if it was as romantic as Nicole Kidman and Ewan McGregor have led us to believe. Indeed it was. Singing, dancing, and nary an STD in sight. But 180€ for a show and even more for… *ahem* after dinner entertainment. Pass.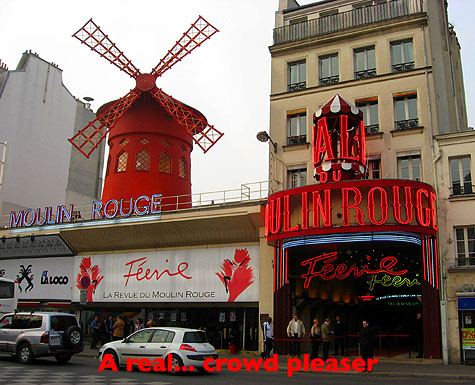 Woke in: Paris, France
It was the best of times, it was the worst of times. I forgot to mention, we decided yesterday to stay in Paris for a few extra days by skipping Spain altogether. The reasoning is that it's unusually beautiful weather here and utterly abysmal in Spain. Plus we wouldn't be in Spain long enough to enjoy anything (48 hours). So we're eating our Barcelona EasyJet tickets and continuing to try to properly pronounce "fête".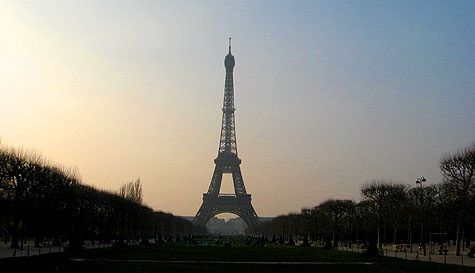 Early in the day we caught the Museé d'Orsay with works from Van Gogh, Monet, Manet, Rodin, and countless other Impressionists and modern works. The crux is we're learning over and over you cannot appreciate art until you've experienced it in person. The thick globs of paint, petit brush strokes, the delicate colors, the presentation, even the context… it's all lost in books and on the Internet. This is not to sound snobby, but that's just how it is. It's like appreciating automobiles without ever driving one. And sometimes you even find out your favorites aren't all they were cracked up to be.
Today is Torkelson's last full day (he has to get back to watching hedge funds go belly up) so we went out for fancy drinks in the evening - no dive pub tonight! At a swanky little covered outdoor bar with lounge singer wandering the tables something caught our eye on the menu. Absinthe. Of course true absinthe is regulated, but we wanted to enjoy the fully-French flaming sugar cubes, fancy slotted spoons, and that deep, lasting burn in your chest. This is existentialism at its best.
At the bar we met an American in Paris from Illinois whom her French friends described as a "French-soul". Despite this we shared an American moment and as her Illinois accent slowly returned she helped us understand a number of French cultural aspects. I'm going to share the results of our questioning for a few paragraphs, and keep in mind this is a girl that over the past year has assimilated to a point where we didn't even recognize her as American until she stated it. Like totally, bra.
So politics and language… Apparently Obama truly has deeply turned around the overall American reputation (in Paris at least). They even find Obama to be a hero of sorts: a lower-socioeconomic, black man risen to the top of world power. (Oddly France has an invisible class system that could inhibit that.) French do think Americans are stupid in general, but when they meet one that knows anything about anything they are extremely charmed. They can even be intimidated. Additionally, just as we find their French accents cute or even sensual, they love our American accents in a similar way.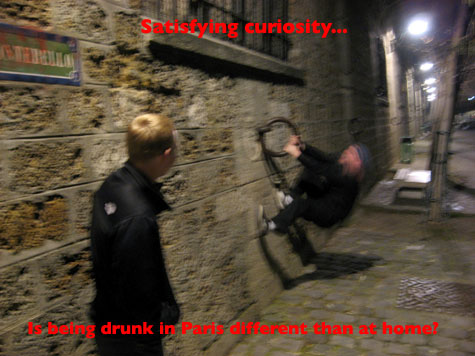 In terms of the fairer sex, while French women are generally cold at first (as the reputation goes) they warm up quickly and are the ones to ask for phone numbers and take charge at the start. Girls have their work cut out for them. And there is no "wait 4 days to call" or any Swingers or The Game-type rules of attraction. Guys don't automatically pay. Text messaging is huge, of course, and generally takes the place of phone conversations. Constant… short… interactions.
Finally, our American casual touching (an arm or leg) is shocking to the French because it means you're slutty. Paradoxically if you go on 3 dates you are officially dating whether it is acknowledged or not, even if you don't like the person. But if you do, at this point you initiate publicly sucking face anywhere and everywhere possible. I can vouch for this point. Your average trip on the metro is like watching a mother bird feed its young… except it's a man and woman.
And that is France.
Woke in: Paris, France
We caught a tour boat that putt-putts up and down the Seine, along which many of the great sights reside. It felt a bit like being at Disneyland (or the World or Euro versions, if you prefer). A tour-guide and epic soundtrack took us through some of the key landmarks. On the left the Louvre, on the right the d'Orsay, the left Notre Dame, and the right a large group of tan old naked Frenchmen sunbathing. Trés magnifique.
Notre Dame was fab. Unearthly. The line going to the top of the building was 70 minutes, so we skipped that and walked around the ground floor. Nothing says "Christ is love" like gargoyles and crucified skeletons!
The Louvre was the highlight of the day (for me). We spent 2.5 hours separately walking around the 4 floors of the museum, but its halls are just too vast. It closed before we could see half of it, but did manage to catch the Mona Lisa, Venus de Milo, and other greats. The hallways range from marble gardens of French statues to a true-scale medieval castle in the basement to explore. It's ironic none of this would be available for us without the exceptional artistic opulence of the French and then a violent revolution against that same opulence. Long live the guillotine!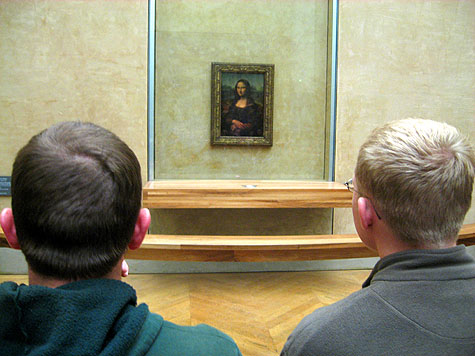 Around 10pm we found a cramped, expensive little French cafe that looked as "local and authentic" as we could collectively imagine. It was as quaint as it was unsettling. It seemed everything on the menu was slaughtered in its unrealized adolescence. I had a baby lamb, Tork had a baby pig, and Iggy a baby spinach salad. But… yum! Clearly flesh is in its prime at a young age — I guess the Greeks were right about something afterall!
To continue my run with yet another waiter story (these are great, g-rated fun for all)… At the end of the meal, our waitress asked where we hailed from. Two from California, to which she replied "the Californians learn French because they live near water" and Torkelson mentioned he was from Minnesota. "Minne-what? Minstery? Oh! You're a redneck. Very nice. Red wine for the red neck." Ouch. It's becoming clear that any state that isn't recognized is assumed by French to be "red" (in both the political and neck meanings).
Woke in: Paris, France
Well here it is, the climax of France. Paris. The City of Lights. I'm finding it difficult to get a few free minutes to write in this place, but here are the deets… Oh and before I forget they have chicken-flavored Lays chips here. They really do taste like roasted chicken. Just wanted to get that out there.
In the morning, straight to Versailles to visit the Palace. I don't think the grandeur and opulence is something that can be described here. It's just massive and your average fancy room to 3-5 years for just the ceiling to be completed. It's expanses of gold, artwork, and marble as far as the eye can see.
One thing struck me though: it didn't seem to be about opulence and hedonism as you might expect from our modern populist films depicting 17-18th century France. Sure Louis XIV fancied himself a God, but the Palace of Versailles is terribly utilitarian. Ultimately wanted all his leaders in one place so he could rule centrally. His bedroom was next to his council room. So what if he would have a parade every morning when he woke up from his bedroom to the dining room?
In the afternoon Chartres Cathedral, or Notre-Dame de Chartres (not that Notre-Dame). It's about an hour outside of Paris and holds significance for three reasons: finest work of Gothic architecture in France, holds the Virgin Mary's tunic, and it has the oldest remaining labyrinth (but sans a minotaur). It's also been in a number of movies and video games (Halo 3, even). It looks like Dracula's spaceship landed in a tiny little sleepy town. Catholic architecture took a very odd turn for a bit.
Finally, the Eiffel Tower in the evening. Ooooo lala. After so many people saying Paris is overrated, I didn't think it would be much. But there is something about standing underneath the warm orange glow of the Eiffel Tower that gets you excited about the city. We'll check it again later in the daytime and see if it's an afternoon delight.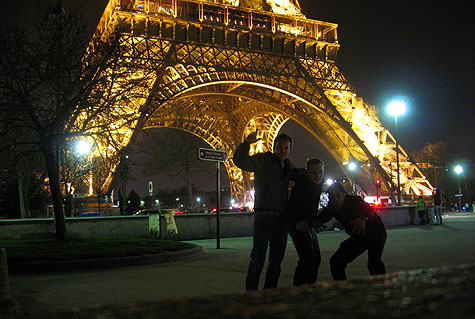 In the evening Iggy did his usual number with a waiter. This time it was inadvertent sexual advances that left the waiter under the impression Iggy wanted him carnally.
"Has anyone ever told you you look like Hugh Jackman?"
"No."
"Do you know who that is? It's a compliment." And later "You're my favorite waiter in all of Europe. Seriously, you're the best I've had."
Each time our waiter would back away during the advances and wait a while before coming back. He didn't look much like Hugh Jackman.
Woke in: Lyon, France (and Taize for Tork and Iggy)
I rose late and enjoyed my final hours soloing Lyon before rejoining with Torkelson and Iggy at the Part-Deux train station. Today it's onward and upward to Paris.
So how did Iggy and Torkelson find the Taize community during the past day and a half? They did enjoy the monastery greatly, but it turned out to be a good thing they were only staying overnight (rather than the usual week - Sunday to Sunday). A few hours after arriving they engaged in questionable activities and fell under the correction of the brotherhood. One of the lead monks formally chastised them for over an hour in the morning and told them had they been staying longer than 24 hours he would have ensured they were thrown out. Oh, monks. What will God think of next. Unfortunately they asked I not be specific on the Internet. C'est le vie.
In the evening, TGV again from Lyon to Paris. The TGV is the world's fastest conventional-track train running at about 200mph off a 25,000hp engine. It's a real gas-guzzler. A TGV set a world speed record at 357mph in 2007. The point being that we're not spending much time on trains in France, which makes us ecstatic. If you've traveled Europe you know it can often feel like you're spending all your time observing green sheep-covered country-sides from a cabin window.
We took in a bit of Paris and enjoyed Parisian turkey, duck, and chicken plates. I won't judge Paris cuisine based on one meal, but so far it looks to be a mouthwatering next few days. Oddly wine appears to be much less expensive in Paris than previous places in France.
We're in district 13 at Oops Hostel (a mistranslation?), so a ways away from some of the more famous landmarks as we opted for a traditional "party hostel" over location. We checked-in for our stay while backpackers from around the world shared drinks and laughter over Borat: Cultural Learnings of America for Make Benefit Glorious Nation of Kazakhstan. Nothing quite like anti-Semitic satire and booze to lubricate global community. Or kick off a war.
We'll dig deep into Paris tomorrow. Perhaps Versailles?
Woke in: Lyon, France
For most of today and tomorrow, Iggy and Torkelson are off to Taizé, an ecumenical youth monastery of sorts. My preference is to experience more of Lyon, so I'll be traversing this splendid city on my own. The goal for today is to only speak French, with the exceptions of this blog, email, and cursing. (Try stubbing your toe and see if "mon dieu" makes you feel better.) I only know a few words, so we'll see how far this gets…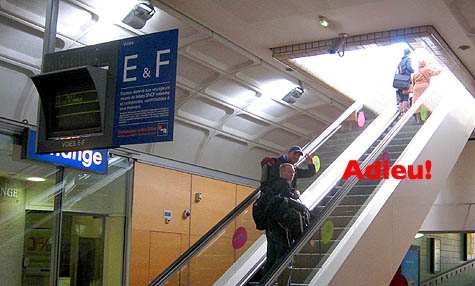 I spent much of the day in historic Lyon, Vieux-Lyon as it is called. There is a lot going on despite the "oldness". While the architecture, churches, Roman ruins and so forth are terribly historic, the contents are generally modern. Modern foods, clothing, galleries, and so on. Let's tuck in with a few pics, shall we?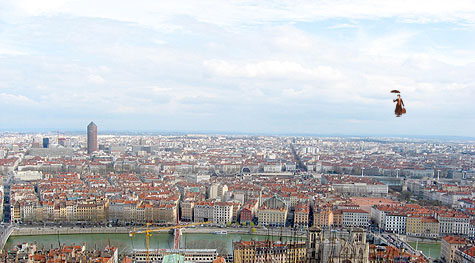 In the late 1870s to celebrate Lyon finally becoming something of a Catholic city (after roughly 20,000 years of hedonism) a cathedral was built on the highest hilltop with three separate worship rooms for different styles of Mass: huge & extravagant, small & homely, and dark & gothic. Sort of like choose-your-own-adventure, but with God. I also happened upon a massive astro-clock:
Unfortunately for me, Lyon is Catholic enough that most anything non-food or museum related is closed (it's Sunday today). Living large isn't going to happen until after dark or tomorrow, at best. In the meantime, here's a photo of my head with silly sunshades blocking a perfectly beautiful view of the city: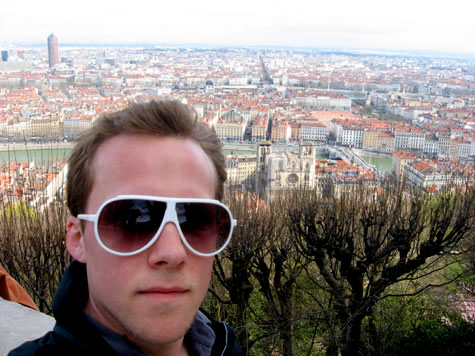 Finally to sum up some of Lyon's historicity:
Another magnifique dinner in the evening, though not quite as extravagant as yesterday's. Poisson this time with a lemony sauce called hollandaise and white wine. Perhaps it's a recipe borrowed from Holland?
Tomorrow we're regrouping later in the day and setting off for Paris.
Woke in: Nice, France
We rose slowly in the morning, checked out of our hostel, and headed back to a small corner-cafe we found called Piccante Cafe. We enjoyed a final round of soft, fresh, eggy croissants, breads, and pain au chocolats. You can't get breakfast breads like this in America (that I know of… comment if you know any!).
A final adieu to Nice and we're off to Lyon, the cinema and gastronomy capital of France. Tonight I suspect we'll be dining well, even if we have no idea what we're ordering. We're now in a place with unfamiliar menu items (coq au vin? cardoon au gratin?) and no English in sight (though some inhabitants speak a little bit).
Per usual we drank some Belgian blonde beer on the 4-hour train ride from Nice to Lyon, but felt a bit odd sitting across from a couple of old marmy-looking gals giggling at our vices. But to our surprise, an hour into the trip one of the 90-year-old ladies pulled a bottle of 1664 from her purse and cracked it open! The stereotypes about French and their drinking habits are officially true. Sante!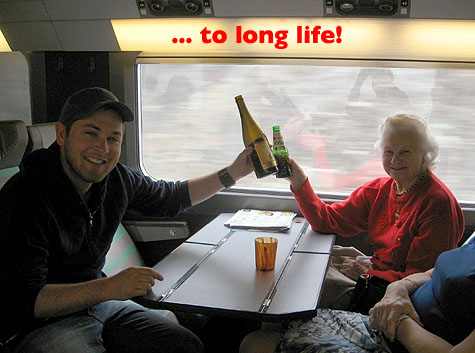 In Lyon, Iggy and I had to share a bed due to some mixup about what "three beds" means. Apparently I was mistaken and three means two, one full and one twin. That's how it goes down on this side of the Atlantic.
In the evening, gastronomy! We ate at the popular Le Layon in the infamous Rue Mercière area and pulled three "very frenchy" dishes as our waitress put it. For Torkelson: frog legs. Iggy: raw salmon with a mystery side dish. And for myself: tartare de boeuf (raw beef with herbs and roots mixed together). I've never had raw red meat due to the risks, but I may not go back. We all agreed this was the best dish of the lot. Although it's difficult to reconcile the thought of someone just cutting a chunk of meat off a cow and then my immediate ingestion. (Apologies to vegetarian readers.) An extraordinary meal with a great Pinot Noir from Bourgogne.
Woke in: Nice, France
Traveled: Nice & Eze, France and Monaco, Monaco.
Today was extraordinary. We traversed Nice hilltops, Eze mountaintops, and Monaco's wealth all in a single day and we somehow felt leisurely about it all. If it weren't for the stark absence of sailing on a 200-ft yacht, I would have thought I was Jay-Z.
Nice is just fabulous in every way. The more time we spend here the richer the experience becomes. From a tourist point of view our waiters are delightful rather than tourist-hating-soup-Nazis, our food doesn't taste like the only seasoning available is salt, and the sights are more than just churches and Irish-pirate dive bars. Visit Nice. Raise a family in Nice. You won't regret it.
Iggy is a lifelong enthusiast of Chagall so in the morning we visited the Chagall museum in Nice and saw much of his later works, 1950s to 1970s. Generally these pieces are a juxtaposition of Christ and Moses, or old testament and new. Something Jewish painters don't often attempt unless they are just that tired of Kosher foods. Shellfish is tasty, I will admit.
We climbed to the top of a hilltop near the coast in Nice prior to setting off for the ancient town of Eze by bus. What a view. Yachts on one side and miles of beaches on the other, all framed within bright Italian architecture and French extravagant minimalism (that makes sense if you go to Nice). The French Riviera here is turquoise like Hawaii or Baja California. We didn't test it for warmth.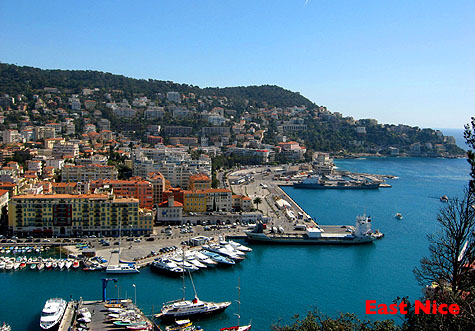 In Eze we felt our way through a series of tiny cobblestone streets in a former hilltop castle of sorts. It feels as if you are in a tiny country rather than a quaint town. Apparently royalty, Indy car drivers, and Bono from some Irish band spend entire seasons in this tucked away gem. We spent three hours, but look forward to returning.
Finally, Monaco. The second smallest country in the world, totally independent but loosely linked with France for trade and defense. There is no income tax so it's a haven for about 32,000 rich and famously rich. We walked the Grand Prix course and saw the black tire marks against the red and white curbs, and stopped by the Monte Carlo to see what all the hub-bub is about.
To keep the tourists out of the casino they charge an entrance fee that we gladly paid. It was immediately clear we weren't intended to do that. With all of us in pseudo-athletic clothing we stuck out like nuns in this smoky haze of tuxedos, exceptional decor, and 20,000-euro-minimum-bet roulette tables. We found a table hosting 25 euro blackjack and Torkelson plopped down 50e to play a few hands. Lady luck shined her blindfolded-face down and he walked out quadrupled up in about 15 minutes. Hoo-rah!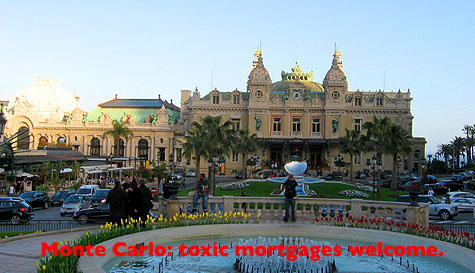 Dinner back in Nice was our best thus far. And the best seafood I've ever had in my life. A slow meal of mussels for appetizer, béarnaise sauce on a number of different catches, crisp white Cassis wine, and pleasant company. This is Europe as I have come to understand it in the movies. Time to take up smoking as well?
Today was a series of precedents. We will judge all pastries by Nice's soft egg-mixed croissants and pain du chocolats. Judge all coastal cities and sea-swept vistas by Nice. All castles and narrow cobblestone streets by Eze. All casinos and unimaginable extravagance by Monaco. And all seafood against Nice's fresh catch du jour and rich sauces. The rest of the world is up against tough odds, but thankfully I have a very short memory. Otherwise I may spend the rest of my life under a haze of depression. Or learn French and move. Grace Kelly knew what she was doing when she married the prince of Monaco.
Tomorrow, Lyon. The second largest city and food capital of France were we hope to learn the true meaning of "bon appétit".